Pigment spot removal with the latest, fastest and most powerful PICOWAY laser!
The newest picosecond (ultra-short pulse) laser by the leading American company "Candela Medical", is an innovative technology for fractional skin renewal where an ultra-short and fast pulse is selectively sent to skin cells and it triggers regeneration processes in a non-aggresive way!
Innovative PICO technology with easy and fast action gives fractional ANTI — AGE aesthetic result, reduces skin pigmentation and provides  photo-rejuvenation of the skin!
NATURALLY rejuvenated and healthy glowing skin, painless treatment, postprocedural period of just a couple of days!
Procedures can be carried out all year round!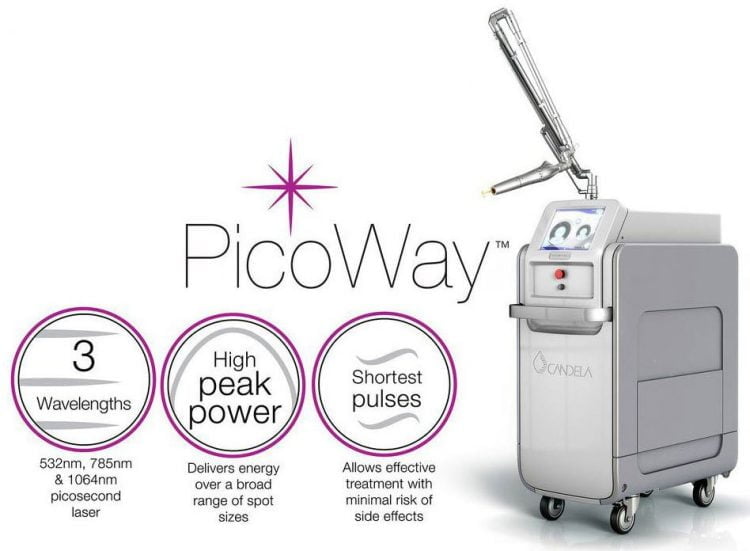 Pigmented spots on the face or body appear due to excessive production of melanin. It is the result of activated melanocytes of skin cells, when due to the received large amount of ultraviolet radiation or for other reasons (pregnancy, age, etc.) there is an increase in pigmentation, which can occur in various areas of the body. Pigmented spots differ in size, formation and shape, eventually expand and brighten, become more noticeable.
Laser removal of pigment spots, why choose this procedure?
Laser pigmentation removal procedure — evens out skin color, safely removes hyperpigmentation.
This is a safe, non-invasive procedure.
Laser removal of pigment spots improves skin structure, produces photo rejuvenation effect, promotes more active production of collagen, and refreshes the skin.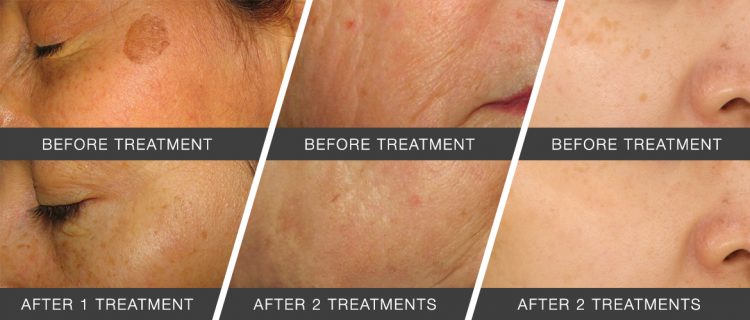 Pigment spot removal with PICOWAY laser, what is this technology?
Picoway is the newest, most powerful and fastest fractional laser from the American company "Candela Medical", leading worldwide with its efficiency, speed and security. "Picoway" innovative system emits peak power and shortest duration pulses to give the skin a photoacoustic and not a thermal effect, that regenerates the skin from the inside and refreshes it, giving it the "Anti-aging" effect, reduces the pigment spots, evens out the skin color.
Thanks to the shortest and fastest picosecond pulses, the "PicoWay" laser procedure is suitable for all skin types and shades — from lightest to darker.
Four, unique and technologically advanced picosecond wavelengths allow optimal and accurate procedures for all skin types I-VI.
"PicoWay" system's wavelengths: 1064 nm, 785 nm, 730 nm, 532 nm.
How many pigment mark removal procedures with PICOWAY laser should be performed?
Normally, 3 procedures are required while performing them every 4 weeks. The exact number of procedures will be told by a specialist during your visit. An individual treatment plan will be drawn up.
What is the PICOWAY effect on the skin during the procedure?
During the procedure, the dermis undergoes so-called "elegant trauma" (non-aggressive effect), which stimulates the production of new collagen and elastin, regenerates the skin, resulting in ANTI-AGE effect, which tightens the skin, pulls it up, tightens the enlarged pores and reduces skin pigmentation. During the procedure, the structure of the skin itself is improved, so the color of the skin is smoothed out and the effect of healthy glowing skin is obtained. This aesthetic effect is achieved by the natural action of the processes of the body.
Is skin pigmentation reduced during the PICOWAY fractional skin rejuvenation process?
Pigmented spots on the face or body appear due to excessive production of melanin. The skin loses its brightness, looks uneven, aesthetically less attractive, forcing people to look for ways to eliminate such spots. The most effective way to remove pigmented spots is laser treatment. The specific wavelength beam emitted by the latest, fastest and most powerful picosecond "PicoWay" laser is effectively absorbed by the pigment melanin in pigment spots. Due to the rapid action of the laser and picosecond pulses, pigmented spots are rapidly eliminated, and, due to laser stimulation,  cause more active production of collagen and synthesis of elastin, therefore the skin becomes more tender and smoother, the process of photo-rejuvenation takes place.
What pigmented skin lesions are treated by PICOWAY laser?
Various pigmented skin changes: lentigo, freckles, sun, age spots, melasma, actinic keratosis.
Fractional skin rejuvenation with PICOWAY fastest laser, read more here: Skin rejuvenation with PICOWAY.