We are pleased to introduce an innovation – Pelvic floor muscle strengthening therapy with high intensity electromagnetic muscle stimulation. A unique therapy developed by the award-winning manufacturer to promote women's intimate health; it is a highly effective treatment that helps maintain good pelvic muscle function. This manufacturer is one of Europe's leaders in aesthetic medicine, offering French quality for more than 12 years – innovation and solutions that meet the highest standards.
Pelvic floor muscle strengthening therapy is unique in that it offers a solution to the very unpleasant, silent problems of female health – incontinence and pelvic muscle weakness. Although these problems are not widely talked about, more than 30% of women experience incontinence in their lifetime. With that unique therapy, regain good health, daily comfort and self-confidence – enjoy feeling like yourself again!
Who is  pelvic floor muscle strengthening therapy suitable for and what problems does it help solve?
Pelvic floor muscle strengthening therapy is an innovative solution for women who want to improve their perineal muscle tone and address related intimate health issues. Pelvic floor muscle strengthening is mostly recommended for women who have given birth and during the menopause.
Carrying a baby and giving birth is a very significant, life-giving experience in a woman's life, but it is also accompanied by significant physiological changes in the body, and many women experience previously unrecognised problems such as incontinence and reduced sex drive. These problems are caused by anatomical changes and the solution is to strengthen the pelvic muscles.
Intimate health problems are also encountered during the menopause. Decreased levels of the female hormone estrogen are linked to pelvic muscle weakness and incontinence. As a result, most women suffer from straining or urge incontinence – problems that can now be solved with pelvic muscle tone therapy.
Unique pelvic floor muscle strengthening therapy is a life-changing solution. Improving perineal muscle tone is an effective treatment for incontinence. But that's not the only effect – a course of therapy also improves your intimate life.
How does that therapy work?
Pelvic floor muscle strengthening therapy is a unique therapeutic chair, the secret of which is electromagnetic pulses. Smart pulses are generated with a very short duration (400µs), which affects motor neurons in the pelvic floor muscles, causing them to contract. Each contraction creates very small cracks in the muscles (just like in a gym). Pelvic floor muscle strengthening therapy is also unique in that it does not allow the muscles to fully relax between pulses, so that thousands of muscle contractions are performed effortlessly in one session. After the therapy, as after sports, the body rebuilds the muscles, increasing the number of myofibrils that form muscle fibres. As a result, the pelvic muscles are strengthened, their endurance and tone are improved, allowing women to hold their urine and feel better satisfaction with their intimate life.
What are the benefits of  therapy?
The therapy offered by ERA ESTHETIC is unique in that it restores pelvic muscle tone during regular sessions, helping to resolve incontinence and intimate health problems. Moreover, the treatment is comfortable and effortless – you simply relax while the electromagnetic stimulation system stimulates the muscles, which rhythmically contract and strengthen.
Why choose the  procedure:
Comfort – you sit in a comfortable position during the entire procedure, while the pelvic muscles are stimulated by electromagnetic stimulation generated by the technology. You can also feel comfortable because you can be dressed comfortably throughout the treatment.
Hygiene – the therapy uses a high-quality system. The electromagnetic chair has an antibacterial, antifungal lining. We care about the health and comfort of our clients, which is why the system is carefully prepared for each session.
Precision – the therapy works only on the muscles of the pelvic floor without affecting other surrounding tissues. This way, the procedure is carried out with the utmost precision and comfort – so that you can feel in control and in feel yourself again!
Individuality – Every woman is highly individual, so intimate health problems are only addressed after a specific assessment of each patient's needs. The treatment is tailored to the individual parameters of the treatment, so that excellent results are achieved and the treatment is safe.
Painless – The electromagnetic pulses used in therapy are painless, so you can relax and feel comfortable throughout the treatment.
Reliable – Therapy equipment is made in France. The electromagnetic chair is a product of exceptional quality, manufactured by France famous, a world-renowned company . This device is proven in its effectiveness – it has been in use worldwide for several years and has helped many women to resolve their incontinence symptoms.
Suitable for those in a hurry – there is no need to prepare for the session, the procedure takes 30 minutes and there is no post-procedure period. So it's much easier to make time for your health!
Clinically proven results!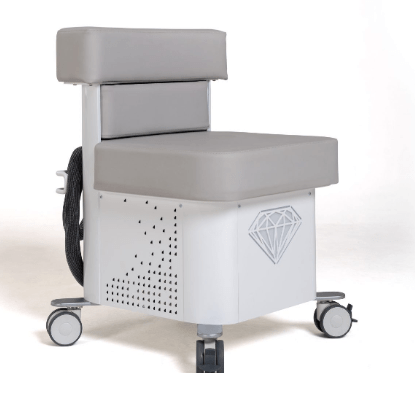 How many treatments are required and how long does pelvic floor muscle therapy  last?
Every woman's health is unique, so each patient receives an individual treatment plan to achieve the desired results and put intimate health problems behind them for a long time. In most cases, treatments are recommended every two weeks, with 6 to 8 sessions needed for a lasting result. The session lasts 30 minutes, so you won't take too long – it's easy to focus on yourself and your health even when you don't have much time, for example during your lunch break.
Is the procedure painful?
The  procedure is not painful, on the contrary, it is extremely comfortable and requires no effort on the part of the woman. Compared to electrical stimulation, electromagnetic pulses do not activate pain receptors. The treatment is therefore comfortable, without pain, tension and muscle fatigue. Crucially, this is a highly personalised treatment, with each woman choosing the right stimulation regimen for her to achieve the best results.
Why is the pelvic floor muscle strengthening procedure more effective than simple muscle strengthening exercise?
 Therapy chair generates extremely short electromagnetic pulses of 400µs that reach the motor neurons in the pelvic muscles and allow the muscles to contract. The advantage of this therapy is comfort and guaranteed results. In comparison, pelvic floor exercises require muscle contraction in a voluntary manner, which may not be effective especially after childbirth. Therapy requires no effort because you let the electromagnetic waves do the work for you.
How do I prepare for the  treatment?
One of the biggest advantages of this therapy is that it requires no preparation. You will be able to be dressed and sit comfortably on the therapy chair during the treatment. There's no need to think about the post-treatment period either, as after the therapy you can just get on with your daily life, go back to work or go back to sports.
When can I expect to see results?
Electromagnetic therapy for strengthening the pelvic muscles works in a very similar way to strengthening other muscles in the body at the gym. You will notice the first changes after the first session, but to permanently strengthen your muscles and to say goodbye to intimate health problems, you will need to undergo a full course of sessions, which may vary in duration depending on the health and body characteristics of each client. The standard session schedule is 6 or 8 sessions, repeated every 2 weeks. Now it's even easier to take care of yourself!
The article is an intellectual property of Era Esthetic laser dermatology clinic.