Cryotherapy, fat destruction by cold – "Cocoon CoolTech", a Spanish technology with no analogues in Lithuania!
AN EFFECTIVE PROCEDURE FOR REDUCING LOCALISED FAT DEPOSITS!
CRYOLIPOLYSIS – ALL BODY LINES ARE AFFECTED!
TWO APPLICATORS USED SIMULTANEOUSLY!
Cryotherapy can be compared to liposuction, but it is performed without damaging the skin, without anesthesia, and there is no post-procedure period!
Cryotherapy, fat destruction by cold from COOLTECH, why choose this procedure?
No surgical intervention required;
Fat cells are destroyed;
No scars;
There is no postprocedural period.
This fat suction technology is called COOLTECH technology by many!
"Cooltech" Cryotherapy is a non-surgical fat reduction procedure that uses controlled freezing to destroy fat cells in unwanted areas. Once the fat cells are frozen, they are broken down and gradually eliminated from the body over the course of a month. The results are proven, visible and long-lasting. The aim of this treatment is to restore your body's shapely form, give you back the appearance of more youthful skin and boost your confidence! "Cooltech" is an effective way to control and/or eliminate excess body fat.
The "Cocoon Cooltech" cryolipolysis method also requires less investment. The cold effect is ideal for those who are in good shape but want to get rid of fat deposits that are impossible to overcome with diet or exercise. Clinical studies have shown that subcutaneous fat cells, or adipocytes, lose the heat they need to function and die when exposed to sub-zero temperatures. However, the surrounding tissues – skin, muscle cells – are less sensitive to cold, so the surrounding tissues are not damaged – the procedure is safe!
The Cooltech procedure not only helps you get rid of unwanted kilograms, but also helps you to slim and correct your figure!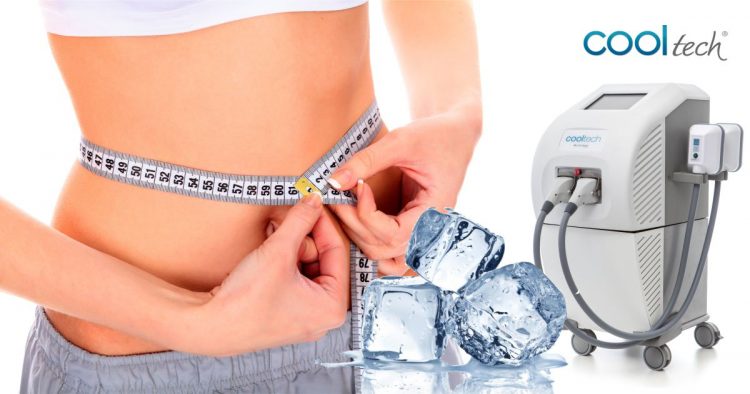 Cryotherapy, cold fat removal, cryolipolysis, Cocoon CoolTech – is it the right treatment for you?
The ideal candidate for the procedure is someone who is not very overweight, but simply wants to reduce fat in specific areas of the body (abdomen, waist, back, legs or buttocks). It is also possible for people who are overweight to have this procedure.
Cryotherapy – COCOON CoolTech, how does the procedure of volume reduction and fat destruction go?
Cryotherapy usually lasts just over an hour (70 minutes), but 2 areas of the body can be treated at the same time. Larger areas do not require more time either. The special tips are applied in such a way as to provide effect on the targeted areas. Once the cells are sufficiently frozen, the procedure is over and you can return to your normal daily activities without any rehabilitation period.
How many "Cocoon CoolTech" cryotherapy and fat reduction treatments are needed?
Usually 3-4 treatments are required, the exact number of treatments will be determined by the specialist during your visit. Our specialist will assess your expectations and select the most suitable treatment plan.
Is "Cooltech" cryotherapy fat removal a painful procedure?
The "Cooltech" procedure is comfortable – most patients chat, browse on their phone, read a book or even take a nap during the procedure. After the Cooltech procedure, patients immediately return to work or other normal activities.
Cold therapy and fat reduction – what happens to the fat during the Cooltech treatment? 
When the affected fat cells crystallise (freeze), the body absorbs the fat and removes the dead cells.
Is Cryolipolysis, the "Cooltech" procedure for the destruction of fat with cold, safe?
Cryolipolysis is a mature, modern technology. Numerous procedures are carried out around the world – it has been proven to be a safe and effective procedure for non-surgical fat removal. Unlike other invasive methods, this procedure does not require anaesthesia or recovery time after the procedure, as the removal process is natural and physiological.
When will you see the result of Cooltech cryotherapy?
The result of the treatment will appear gradually as your body works on the affected fat cells. The result usually starts to appear after 8 weeks.
Which areas of the body can be treated with the "Cocoon CoolTech" procedure?
Cryotherapy and cold fat destruction with exclusive "Cooltech" technology is characterised by its adaptability to any problem area. "Cooltech" works on and destroys fat in the areas that are most resistant to change – the abdomen, waist, back under the bra, thighs. What can be compressed can be frozen.
How long does the "Cocoon Cooltech" procedure take?
The cryotherapy treatment lasts 70 minutes, which is the time it takes to effectively destroy fat. You can have it done for 1 or 2 areas in one visit, depending on your expectations, goals and availability.
How often should one perform the fat destruction by cold procedures?
Cryotherapy treatments are carried out every 4-6 weeks on the same area. It is recommended to work on no more than 2 areas during the procedure.
LET THE COLD CHANGE YOUR LIFE!
A NEW CONCEPT IN CRYOTHERAPY TREATMENTS!
FAT REMOVAL BY COLD – AN INNOVATIVE TECHNOLOGY!
"Cooltech" is a new and one of the safest and most effective devices for cryolipolysis treatments. Its innovative system allows the simultaneous use of two additional hand-held applicators that resemble an intense massage, they are combined for a deeper result.
It is a non-invasive procedure that does not require a post-procedure period. The patient can return to his normal daily life on the same day of the procedure.
The exclusive "Cooltech" technology allows two applicators to be used in one treatment, reducing the treatment time and providing more convenience for the patient, as two areas can be treated at once in just one visit for a visibly smoother skin.
ADVANTAGE: The different areas of the body that can be treated with "Cooltech" at the same time, the special applicators, are one of the main achievements of this technology, as all the lines of the body can be beautified in 3-4 treatments.
Freezing gel cushion with PATENTED MEMBRANE
"Cocoon Medical" has patented a reinforced cold gel pad membrane that ensures maximum safety for patients.
For best results and maximum skin protection.
Security + results.
FAT REMOVAL BY COLD – COCCON SYSTEM APPLICATORS AND NOZZLES
Procedures with straight tips.
This tip covers the largest area. For large areas on smooth surfaces. (For fatty folds up to 14 cm in length.)
The straight tip is specially designed for better access to hard or very small fat clumps.
Procedures with curved tips
Specially designed to work on curved areas without compromising suction strength. (For fatty folds up to 15.5 cm in length.)
Treatments with double tips
Designed to work uniformly over the entire length of the abdominal area in a single session. (For fatty folds up to 19.8 cm in length.)
Post-procedure recommendation:
Avoid:
intense heat sources for 7 days after the procedure;
physical activity that could cause injury or affect the areas exposed during the procedure;
long journeys (within the first 72 hours) as this can cause fluid accumulation and oedema.
For continued, more intense results, it is recommended to follow a hypocaloric diet low in saturated fat and to exercise for at least 3 months after the procedure.
Contraindications to the Cooltech cryotherapy procedure
This procedure is not recommended for people with cold allergies, acute inflammatory skin diseases, cryoglobulinaemia, kidney and liver failure, and pregnant or lactating women.