V CARBON two-step skin exfoliation treatment with activated black carbon!
V CARBON ANTI – AGE non-invasive treatment with activated black carbon, coming straight from nature, is a two-step exfoliation program – cleanses, regenerates and firms the skin.
An innovative therapy by the Italian manufacturer PROMOITALIA, with 2 unique professional products:
An elegant black mask containing activated carbon with a unique ability to detoxify and purify. Black ginger and liquorice extracts also detoxify and act as antioxidants. Three acids (Ferulic, Almond and Lactic) exfoliate, brighten the skin, tighten enlarged pores and stimulate the skin's renewal process.
a special spray with biomimetic (relaxing mimic muscles) hexapeptide, which regulates the mask's depth of action and gives a lifting effect.
V – CARBON, skin exfoliation procedure order? 
assessing skin condition;
the skin is cleansed and dried;
V CARBON mask applied;
V CARBON spray is applied, massaged in and rinsed off;
V CARBON spray is applied again and massaged in the skin until it is fully absorbed.
The unique composition of V CARBON, which effectively combines activated carbon with a mixture of acids, quickly and efficiently stimulates a more active skin cell turnover and ensures a detoxifying effect.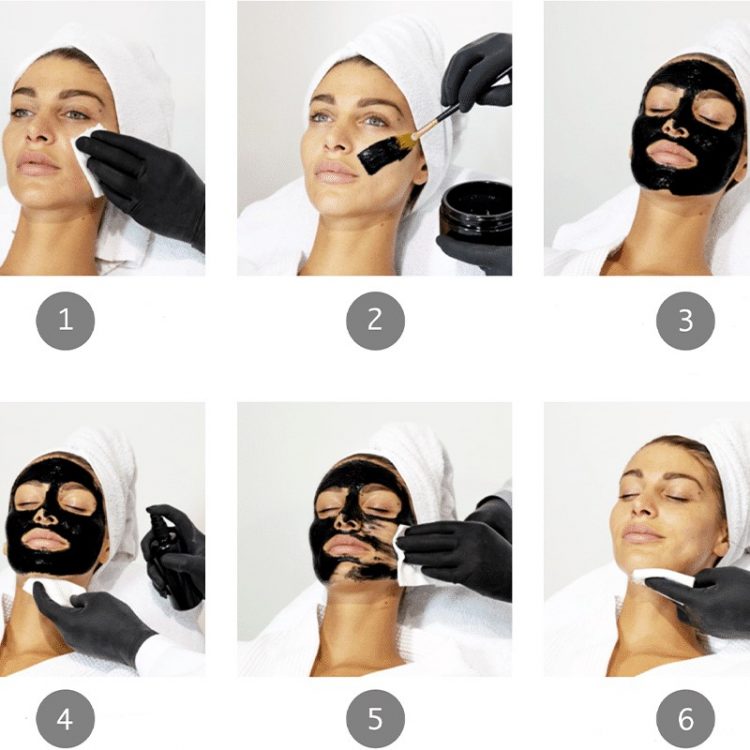 What are the effects of the V CARBON procedure?
deeply cleanses and detoxifies the skin;
reduces the depth of wrinkles;
Reduces unevenness in skin color and texture (including post-acne scars);
shrinks enlarged pores;
moisturizes and brightens the skin;
provides firmness, elasticity and improves skin texture;
stimulates skin regeneration.
What are the active ingredients in the V CARBON professional mask?
Acids
The combination of glycolic, lactic and almond acids, better known as alpha hydroxy acids (AHAs), together with ferulic and ascorbic acids, are commonly included in skin care products and offer particular benefits to both the skin on the face and body, especially when used in the right concentration.
Charcoal powder
A dry carbonate material obtained by heating organic substances. The porous structure of the charcoal powder gives it a special ability to absorb minerals, toxins, impurities and other substances harmful to the skin, while also cleansing and detoxifying the skin. Charcoal powder has a mild cleansing effect, cleansing the pores and removing dead cells, stimulating cell turnover, improving the appearance of the skin and increasing luminosity. These measures are suitable for all skin types and are particularly recommended for their ability to absorb excess skin fat and improve skin clarity. This versatile material is safe to use and is not restricted by cosmetic use requirements.
Hydroxyethyl cellulose
Hydroxyethyl cellulose is produced by reacting ethylene oxide with alkali cellulose. It is a polymer extracted from cellulose and used as a thickener in cosmetics and personal care products. The material is considered safe and well tolerated for all skin types.
Glycerol
Glycerol is a thick, gelatinous liquid that restores the balance of water levels in the skin and helps to increase moisture absorption.
Ginger root extract
Ginger (Zingiber officinale) is an herbaceous plant belonging to the ginger family (Zingiberaceae) and originating in the Far East. Ginger root extract, extracted from the roots of the plant and used in cosmetic products, fights free radicals, provides oxygen to the epidermal cells to revitalize them and is beneficial for any inflammatory skin condition. It is basically considered an antiseptic, antiviral and anti-inflammatory agent, as well as a circulatory stimulant and antioxidant.
Licorice root extract
Licorice (Glycyrrhiza glabra) is commonly used as an anti-inflammatory and antioxidant because its root extract contains the molecule licochalcone, which helps to control sebum production and soothe acne-prone skin. When combined with other plant oils and alpha hydroxy acids, as in the V Carbon Film mask, they can be used to reduce dark spots and age spots, as well as to brighten the skin. They are considered safe for localized use even on sensitive skin.
Propylene glycol
Propylene glycol is a synthetic organic compound, chemically classified as a diol, which is miscible with various solvents including water, acetone and chloroform. It is a thick, colorless liquid with a mildly moisturizing effect that helps the active ingredients to absorb into the skin. "V Carbon Film" mask is used as a viscosity-reducing agent and solvent in the mask.
Sodium dehydroacetate
Sodium dehydroacetate is the sodium salt of dehydroacetic acid, a fungicide and bactericide. It is perfectly soluble in water and, when added to cosmetics, acts as a preservative, extending the shelf life of the products and preventing them from becoming contaminated with microbes. This substance is an effective antimicrobial component that protects against bacteria and fungi, even at low concentrations (as in the case of the "V Carbon Film" mask). Its ability to kill micro-organisms prevents cosmetics and personal care products from spoiling.
Phenoxyethanol
Like sodium dehydroacetate, phenoxyethanol is also a preservative and/or antibacterial agent, often included in both cosmetics that can and can't be washed off and personal care products to preserve their efficacy or prevent spoilage, as well as to prevent the growth of fungi, bacteria and yeasts that can damage products.
Ethylhexylglycerol
Ethylhexylglycerol is a natural preservative extracted from vegetable glycerol. Ethylhexylglycerol acts as a preservative, preservative enhancer, surfactant, deodorising agent and skin softener. As a preservative, ethylhexylglycerol lowers the surface tension of the cell walls of micro-organisms and promotes their rapid degradation. In addition, ethylhexylglycerol may enhance the effects of other preservatives such as phenoxyethanol. Ethylhexylglycerol also functions as a surfactant. Such materials reduce the surface tension between two materials, such as two liquids or a liquid and a solid component. Surfactants used in skin care products degrease and emulsify oils and grease, trapping dirt and allowing it to be removed.
V CARBON spray with biomimetic peptide, what is its effect?
Relaxes the mimic muscles, regulates the depth of the mask and gives a lifting effect.
V CARBON skin exfoliation, ANTI-AGE treatment result?
Fresh, firmer, clean, radiant skin after the first V CARBON Activated Charcoal exfoliation – feel the difference!