Skin rejuvenation with Japanese injections of amino and hyaluronic acids
Unique beauty injections SUNEKOS 200
Skin rejuvenation, tightening and firming of the facial skin, wrinkle reduction, improvement of skin tone with the innovative ANTI-AGE therapy of amino and hyaluronic acids from Japan, one of the world's most famous manufacturers.
Skin rejuvenation with amino and hyaluronic acids, what are the main active ingredients in these injections?
The main active ingredients are hyaluronic and amino acids. It is a unique formula that produces complex effects during skin rejuvenation treatments.
SUNEKOS 200 — four effects in one product!
Stimulates the production of collagen and skin renewal.
Hyaluronic acid ensures the necessary moisture balance of the skin.
The skin is particularly rejuvenated — firmer, more elastic, and radiant.
A natural-looking rejuvenation effect.
Skin rejuvenation, facial skin tightening, how do these new generation Sunekos 200 injections work?
Amino acids are like the building blocks of our bodies, essential for tissue renewal and the production of new cells. When they are deficient, the skin gradually loses its vitality — it starts to sag, loses its firmness and luminosity, and wrinkles become more pronounced and deeper.
Hyaluronic acid is a moisturising component. The direct application of this substance to the skin ensures continuous hydration and accelerates skin renewal.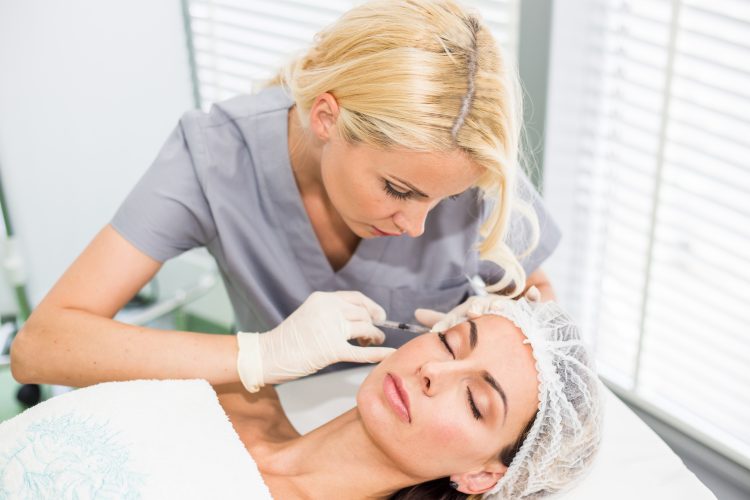 In vivo (a study performed or observed in a living organism) and in vitro (a study performed in a laboratory rather than in a living organism) studies have identified the exact formula of the amino acid that, in combination with hyaluronic acid, can stimulate naturally the production of collagen and elastin and achieve a VISIBLE rejuvenation result.
These two active ingredients work in harmony with each other to effectively stimulate regenerative processes: skin rejuvenation, wrinkle reduction, firming and tightening of the skin, lifting skin tone, correcting dark eyelids, and reducing the appearance of malarial bags in the eyelids, while tightening the sensitive skin.
Hyaluronic injections and amino acid — the patented Sunekos 200 ANTI-AGE action formula:
Stimulate fibroblasts to actively produce collagen and elastin, which are essential for skin rejuvenation.
Figure 1 Formula patent for SUNEKOS 200 ((*) PCT/IB2015 International patent application)
Clinical trials with patients (age group 45–65) using this next-generation facial rejuvenation and skin tightening therapy have shown excellent results: just 10 days after the first treatment, the skin became firmer, more elastic and without signs of dryness, with a visible reduction in wrinkles around the eyes. The cheekbone line has also become prominent.
Figure 2 Post-procedure effects of amino acid and hyaluronic acid injections, 2–3–6 months later.
Amino acid and hyaluronic acid are excellent in the fight against ageing.
Facial rejuvenation, skin tightening, wrinkle removal, cheekbone refinement, skin toning — the ideal ANTI-AGE therapy for both young and old.
Skin rejuvenation and tightening with the Sunekos 200 filler — where can these beauty injections be performed?
Face, neck, décolletage, arms, and hands;
You'll be pleased with naturally rejuvenated skin, reduced wrinkles, defined cheek lines, and a feeling of moist skin.
Black circles under the eyes will disappear and malarial bags in the eyes will be reduced.
Benefits of amino acid and hyaluronic acid injections:
Thanks to a unique patented formula using amino acids and hyaluronic acid, which are naturally synthesised in the body, these innovative injections not only moisturise, but also rejuvenate the skin from within.
Thanks to a unique combination of amino acids, fibroblasts are activated at the injection site to recycle and stimulate the production of collagen, triggering skin rejuvenation at cellular level.
Efficacy has been studied and proven in clinical trials.
It is also suitable for younger patients who are not satisfied with even the barely noticeable first wrinkles.
Skin rejuvenation and firming with amino acid and hyaluronic acid injections, how long does the result last?
The result depends on the personal characteristics, with the usual effect lasting about 8 months, after which the procedure can be repeated.
A quick procedure!
Amino acid and hyaluronic acid injections take only up to 30 minutes.
FAQ
What are the rejuvenating, wrinkle-reducing, skin-tightening effects of SUNEKOS 200?
Extra rejuvenated skin and a natural-looking appearance;
Improves skin texture and elasticity;
Reduces the appearance of superficial and expressive wrinkles;
Conceals dark under-eye circles;
Highlights the cheekbones;
Intensely moisturises the skin;
Gives the skin a smooth and luminous effect.
For which areas is the SUNEKOS 200 facial rejuvenation and firming treatment recommended?
Facial skin
Hands and arms;
Neck.
When do I start to see the first results of SUNEKOS 200 facial rejuvenation and firming?
The first results start to appear 10–14 days after the treatment and can last up to 8 months.
How many treatments of amino acid and hyaluronic acid injections are needed?
We recommend 3–4 treatments to achieve the best ANTI-AGE effect and enjoy truly supple, glowing, and firm skin.
Can the SUNEKOS 200 facial rejuvenation and firming therapy be combined with other treatments?
Can be combined with mesotherapy, PRP (platelet-rich plasma), biorevitalization, and laser treatments.
Approximately how long does the amino acid and hyaluronic acid injection procedure take?
About 30 minutes.
What should I avoid after this facial rejuvenation and firming procedure?
On the first day of the treatment, it is recommended not to touch your face with your hands, avoid direct sunlight, sports, saunas, or swimming pools.