Acne scar treatment with the latest, most powerful and fastest PICOWAY laser!
The newest picosecond (ultra-short pulse) laser by the leading American company "Candela Medical", is an innovative technology for fractional skin renewal and acne scar removal, where an ultra-short and fast pulse is selectively sent to skin cells and it triggers regeneration processes in a non-aggressive way!
The reason for the appearance of acne is increased activity of sebaceous glands of the skin and increased production of fat cells. During a person's puberty, the number of sex hormones rapidly increases in the body Internal anxiety, stress, emotional experiences can further activate the action of these hormones, which activates the appearance of acne (pimples). Fat cells, their accumulations and dead skin cells stick together and form plugs, which then clog skin pores — white or black blackheads, and youthful and adolescent persons start having an acne problem. Favorable conditions are created for faster reproduction of skin bacteria, which cause inflammation and infection of the skin.
Acne rashes most often appear in the central part of the face, chest, shoulders and back area, in places where the sebaceous glands are located most often.
Improper nutrition (high in fatty, fried, carbohydrate-rich foods), constant stress, fatigue, cold legs, endocrine diseases, improper skin care or cosmetics that clog up pores, as well as certain medicines can provoke or cause acne. There are many reasons for it and it is important to turn to specialists in time and start treatment.
After the acne is gone, a scar on the skin is a natural process of healing for damaged skin. Thanks to modern laser technologies, these scars are treated, leveled out and removed.
Acne scar removal with PICOWAY fractional, picosecond laser!
PICOWAY's fastest and most powerful laser beam directly affects the collagen in the skin, stimulates it and promotes its more active production in order to fill the formed scars with new collagen and increase the elasticity of the skin in the damaged area, thereby reducing acne scars and correcting their color.
Because lasers affect the skin pigment melanin and the hemoglobin in small blood vessels, they are used to treat acne scars — scars are leveled out and being discolored, regardless of whether they are red or brownish.
How are acne scars affected when exposed to the fractional PICOWAY laser?
Picoway is the newest, most powerful and fastest fractional laser from the American company "Candela Medical", leading worldwide with its efficiency, speed and security. "Picoway" innovative system emits peak power and shortest duration pulses to give the skin a photoacoustic and not a thermal effect, that regenerates the skin from the inside and refreshes it.
Due to the shortest and fastest picosecond pulses, the procedure with "PicoWay" laser is suitable for all types and shades of scars.
"PicoWay" system's wavelengths: 1064 nm, 785 nm, 730 nm, 532 nm.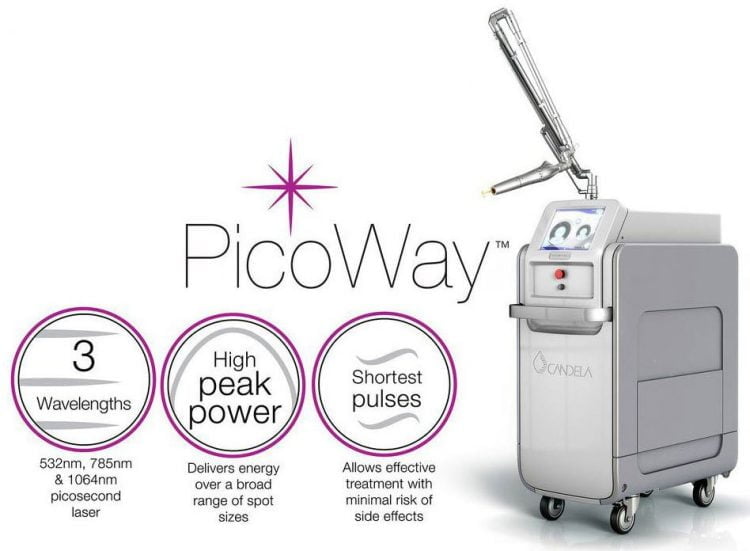 Scar treatment with the newest, fractional picosecond laser PICOWAY
Various types of scars can form after the healing of wounds.  The most common types of scars:
The most common type of scars. They are formed after a thermal or chemical burn, especially in children's age. Such scars are wide, bright red, hard, bulging. People with such scars frequently feel itching, sometimes pain. Hypertrophic scars begin to form 2-6 weeks after skin damage. The process takes an average of 18-20 months.
Keloid scars are a rarer type of scars. Scars of this type are formed as a result of an increased reaction of the body to damage to the skin. During the healing process, the body at the site of the wound promotes excessive production of collagen, resulting in the formation of a larger scar than in the standard case. These scars often extend beyond the wound, are rough, dark red, markedly protruding above the skin.
Such scars look like small recesses in the skin. They are most often formed after the development of Acne and after Chickenpox. The reason for their occurrence is insufficient amount of connective tissue, after the disappearance of acne.
These scars are formed with a strong burn of the skin. Scars of this type cause not only aesthetic problems, but also may limit the mobility of the damaged part of the body (e.g. in joints areas) since the skin has contracted after healing.
Different types of scars are effectively, safely and quickly removed with the FASTEST and most powerful PICOWAY laser!
The technological advantages of PICOWAY laser, rated as gold standard: 
Multifunctional ergonomic special nozzles with a single point and expanded radius option – ensuring a more accurate, efficient and safer procedure;
The newest "PicoWay" fractional laser with picosecond pulses gently (not aggressively) stimulates and activates the production of new collagen and elastin, corrects skin defects, regenerates and refreshes the skin;
Four innovative picosecond wavelengths allow to carry out the procedure for all types of scars selectively and very accurately.
How many procedures with PICOWAY laser will be needed for the treatment of scars?
Treatment of acne scars — how many procedures will be needed for treatment will depend on how hard the skin is damaged and ticked with acne, usually 3-6 procedures are required. The number of other procedures for treating scars is also individual, depending on the depth and color of the scar. The exact number of procedures will be told by a specialist during your visit.
What time do PICOWAY procedures take?
It depends on the specific nature of acne and other scars, the timing and features of their occurrence. Our specialist will advise you and recommend the most appropriate treatment plan. Correction of acne scars usually requires 2 to 5 procedures every 4 weeks, and usually 1 to 3 procedures are sufficient for color correction. The intervals between procedures can be longer, but not shorter.
Is the procedure painful?
The procedure is comfortable, carried out by a picosecond pulse (high speed), as a result, anesthesia is not applied before the procedure. During the procedure, you will experience only a tingling sensation.
Is there a postprocedural period after the PICOWAY procedure?
After the procedure – skin regeneration and renewal takes place for a couple of days.
What skin deficiencies are corrected, treated with PICOWAY fractional laser?
All types of scars: appearing after acne pimples, surgical scars, burn scars, atrophic, hypertrophic, etc.
Skin stretch marks.
Stretch marks are narrow strips on the skin, which have a pink, pink or even slightly bluish color. Sometimes white stretch marks also occur. They resemble small scars. Stretch marks most often appear on the legs, on the abdomen and on the buttocks. After pregnancy, in some women, stretch marks appear even on the chest.
Stretch mark laser removal is the most effective, non-invasive method of stretch marks treatment!
For those who do not want surgical interventions and seek smooth skin, the most effective stretch marks removal option is to treat them with a laser. We invite you to carry out this procedure with the fastest and most powerful, the latest "Candela Medical" fractional, picosecond laser – PICOWAY.